Are you tired of driving big and heavy machines? Do you feel the need to feel the open air smell new scents as you ride through nature? Are you fed up with cars and their traffic jams?
You may have heard about three-wheelers, but maybe you worry that they're not safe or practical. You're looking for a new adventure, but want to make sure you're taking some safety precautions. But we think riding a three-wheeler can be fun, exciting, and a great way to spend time with the people you love!
You don't have to move to find some adventure: try a three-wheeled motorcycle from your local 3-wheel motorcycle dealer! These beauties will take you anywhere, anytime, and with all the excitement you could ever wish for.
Everybody's doing it! The freedom and exhilaration of riding a three-wheeler are growing in popularity throughout the country and worldwide. If you're interested in taking your motorcycle adventures to a whole new level, try these top 5 reasons why you should consider owning one of our trikes.
1. They're Easier to Ride Than a Two-Wheeler
Three-wheelers are much easier to ride than two-wheelers. No matter how hard you try, you can't tip over a three-wheeler, and this means you don't have to worry about losing control of your motor trike and crashing when you take sharp turns or take off from a stoplight.
You can also ride at higher speeds without worrying about tipping over because your bike won't lose its balance as easily as a two-wheeler would. The dependability of riding one of these vehicles makes them attractive to both new and experienced riders alike.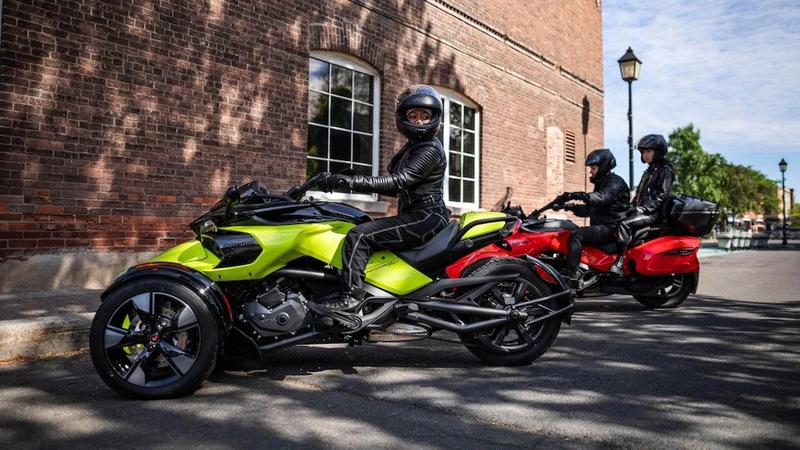 If you have a spouse or friend who wants to go for a ride, but doesn't want to learn how to ride on their own, then they can hop on the back of your three-wheel motorcycle with you!
When you take a road trip on your trike, you're going to be more comfortable than when you ride a traditional two-wheeled bike. With three-wheeler motorcycles, there usually is more comfort in the seat and more space between the handlebars and seat that allows you to move around easier if needed.
2. There is a Wide Range of Models to Choose From
There are many different trike motorcycles for sale. Some are designed for cruising, and some are for racing or off-roading. Some have two wheels in the front, and others have two wheels in the back. Some lean, some don't. Some are street legal, and others are not.
Before purchasing a three-wheeled motorcycle, do your research and determine which one best suits your needs and wants.
3. Three-Wheelers Are Great for Those With Limited Mobility
If your range of motion has been limited by age or injury, then hopping onto a regular two-wheeler can be challenging. With all the bending and stretching required to mount and operate most bikes, motorcycling can be off-limits for some.
A three-wheeler is perfect if you cannot lift your leg over the seat or hold up the bike while stopped. They allow riders to sit higher off the ground and provide plenty of support for those who need it.
4. It's A Great Way To Save Money On Gas – and Help Save The Environment!
If you are like many people today, you are looking for ways to save money on gas to power your vehicle. You may also be concerned about doing your part to help save the environment. One of the best ways to do so is by trading in your car or truck for a three-wheeled motorcycle.
Not only are these vehicles much more cost-effective, but they can help reduce the level of pollution in the air and reduce traffic on our roads. You get, on average 65 miles per gallon with a three-wheeler. That's a lot of money you're saving when you fill up at the pump. And it's also helping save the environment at the same time. Watch for your local 3 wheel motorcycle sale and save money on gas!
5. It's a Fun Way to Get Around Town
The first thing many people love about three-wheeler motorcycles is that they are a fun way to get around town. Whether you're running errands, meeting up with friends, or just cruising around, you'll enjoy the ride.
Three-wheelers are a great way to get around town, especially if you live in an urban area. They're small enough to maneuver through busy streets and between lanes of traffic. Yet, they offer enough safety features and comfort to protect riders on long rides.
Trikes are also great for showing off in a parade or getting some attention at a car show. If you want to turn heads on the road, nothing beats riding around town on a three-wheeled motorcycle.
Stop By 3 Wheel Motorcycle Dealer Today
Riding a three-wheeler motorcycle is like no other experience. It's fun, it's unique, and it's exhilarating. Once you try it, you won't want to go back. Some may even argue that it is more fun than riding a traditional two-wheeled motorcycle. It's a great experience that you and your whole family can enjoy. But it boils down to this, why ride any motorcycle when you can ride one of the best three-wheeler motorcycles on the market today?
If you're in the market for a fun new adventure, stop by Cross Country Powersports! Our friendly and helpful team can help you find the perfect 3 wheel motorcycle for sale in New Jersey.